Amid escalating tensions in the Indo-Pacific region, evolving geopolitical challenges, and growing strategic competition, Australia recognises the necessity of addressing these factors by building a modern military force. As a result, Australia's defence budget is projected to register a compound annual growth rate (CAGR) of 5.2%, growing from $39.5 billion in 2024 to $48.3 billion in 2028, driven by the transformative trilateral security alliance known as AUKUS, according to GlobalData, a data and analytics company.
GlobalData's latest report, "Australia's Defense Market Size and Trends, Budget Allocation, Regulations, Key Acquisitions, Competitive Landscape and Forecast, 2023-28," reveals that the country's defence budget in 2023 witnessed a growth of 5%, increasing to $38.1 billion from $36.3 billion in 2022. The increase in the defence budget is primarily due to the slew of ongoing and planned procurement programs, which aim to modernise the country's current defence inventory.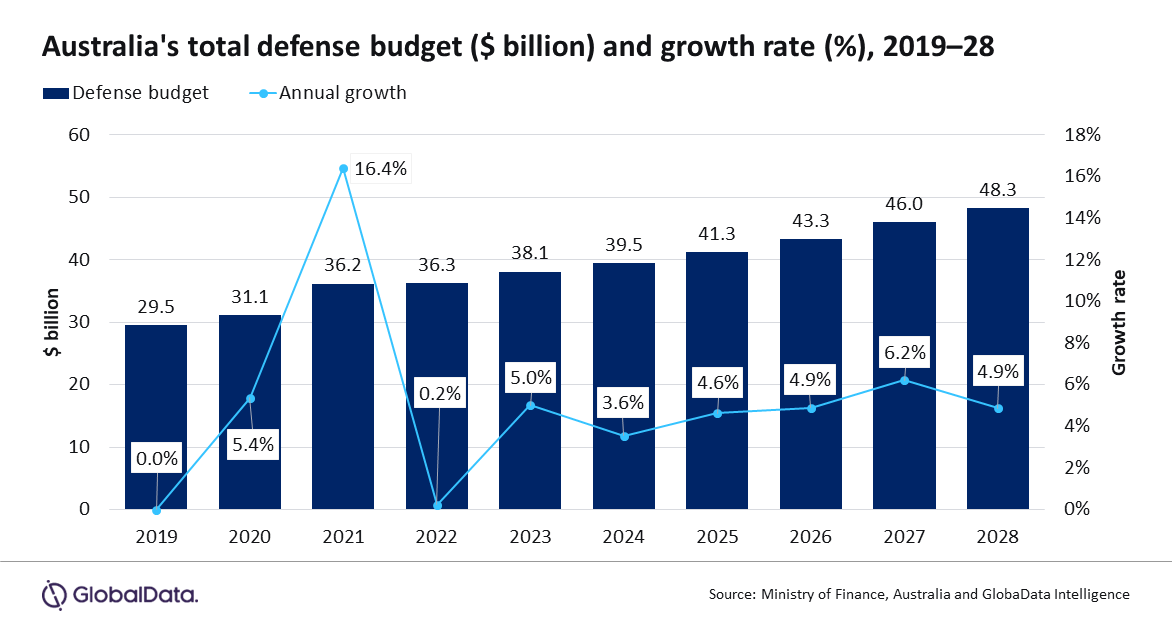 Akash Pratim Debbarma, Aerospace & Defense Analyst at GlobalData, comments: "By actively engaging with regional partners and forging strong alliances, Australia aims to navigate the complexities of the regional security landscape and contribute to the stability of the Indo-Pacific. The Defence Strategic Review 2023 released by the country's government underscores a proactive response to the realities of the security environment."
The formation of AUKUS has emerged as a transformative initiative, paving the way for the Australian Navy to acquire and operate nuclear submarines. This partnership between the US, UK, and Australia, showcases the country's readiness to adapt to evolving security challenges and collaborate with strategic allies to meet shared objectives.
Debbarma adds: "AUKUS serves as a driving force behind the increased defense expenditure, enabling Australia to modernise its defense capabilities and effectively address emerging security threats."
The nuclear submarines are not the only major procurement driving Australia's defence budget. The country's ongoing procurement of the Hunter-class frigate is a significant milestone in its naval modernication efforts. The selection of the BAE Systems Type 26 as the winning design for the future frigates, along with the involvement of Australian companies in the program, showcases the country's commitment to strengthening its defence capabilities and supporting domestic industries.
The involvement of Australian companies, including Datanet, Lamson Concepts, Cohda Wireless, and Dematec Automation, in downstream opportunities further reflects the program's positive impact on the local economy.
Debbarma concludes: "Australia recognises the importance of upholding alliances and partnerships, including the Quadrilateral Security Dialogue with Japan, India, and the US, to navigate the evolving security landscape. Its relationship with China as Comprehensive Strategic Partners presents unique complexities, balancing economic interdependence with security concerns. By robustly investing in defence capabilities and engaging with international partners, Australia aims to foster stability, protect national security interests, and contribute to the broader global security landscape."
---
For Editorial Inquiries Contact:
Editor Kym Bergmann at kym.bergmann@venturamedia.net
For Advertising Inquiries Contact:
Director of Sales Graham Joss at 

graham.joss@venturamedia.net
---