Territorial claims in the South China Sea and the increasing strength and assertiveness of the US have spurred China to enhance its military capabilities. In line with this, the country has approved ambitious military modernisation programs to build its capabilities. Against this backdrop, the defence budget of the country is expected to increase at a compound annual growth rate (CAGR) of 7.2 percent from $241.2 billion in 2023 to $318.6 billion in 2027, forecasts GlobalData, a data and analytics company.
GlobalData's latest report, "China Defense Market Size and Trends, Budget Allocation, Regulations, Key Acquisitions, Competitive Landscape and Forecast, 2022-27," reveals that China's defence expenditure for 2022 would amount to $225.6 billion, a 7.3 percent increase on 2021, and reflects a CAGR of 7.8 percent during 2018-2022.
Rouble Sharma, Aerospace & Defense Analyst at GlobalData, comments: "China is in the process of acquiring fighter and multirole aircraft, corvettes, submarines, naval vessels, and advanced intelligence and surveillance equipment to strengthen the armed forces by 2027."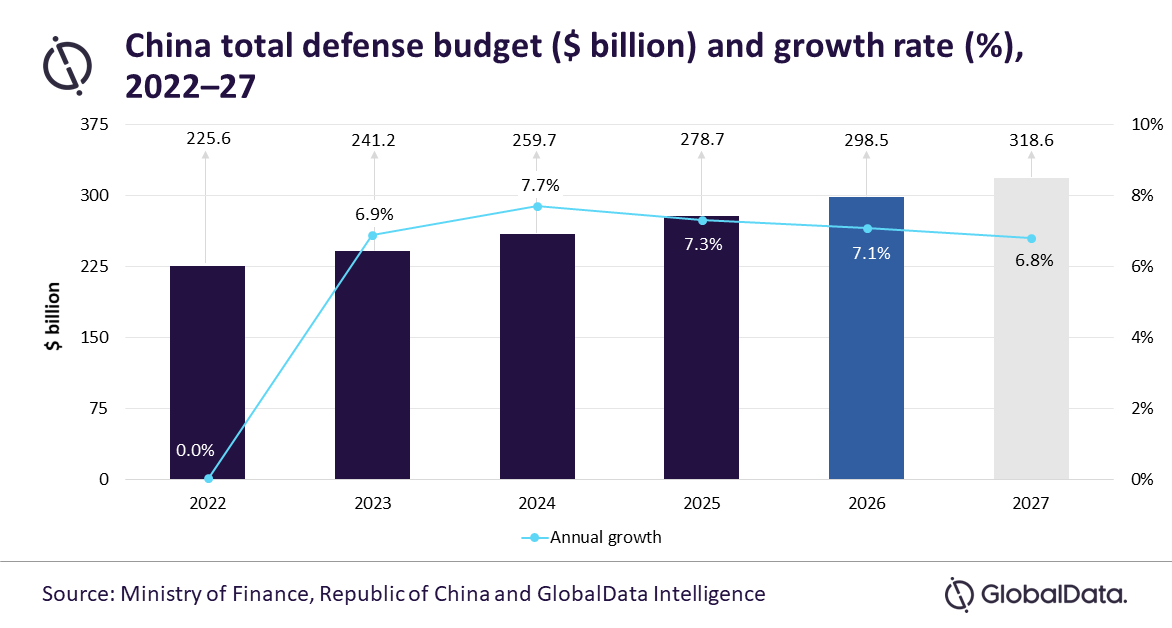 China is making some profound changes to maintain national security. This includes the acquisition of the J-20 Mighty Dragon- fifth generation aircraft to quickly provide critical air support.  Another ongoing fifth-generation fighter program is the Shenyang J-31.  It is the second stealth fighter that China has indigenously developed after the J-20.
Sharma continues: "China is in the process of acquiring advanced military technologies and platforms. The J-20 Mighty Dragon jet is the most significant production of Chinese military technology, which has grown at a robust pace over the last decade. The fifth-generation fighter can complement the air superiority variant currently in service and will be used to monitor the Taiwan Strait and the East China Sea. It is designed to execute ground attack missions even in hostile environments. The aircraft can reach higher altitudes with its delta wings at supersonic speed to achieve strategic independence."
Additionally, the People's Liberation Army aims to reduce the technology gap in areas such as artificial intelligence, long-range standoff precision strike capabilities, stealth and unmanned weaponry, with technologically advanced countries such as the US.
Sharma concludes: "The integration of artificial intelligence and related technologies into military assets is a major component of military modernisation going forward. Increasing cyber capabilities have the potential to develop cross-domain coordination capabilities. Working in tandem with restructured military forces will advance Chinese military operations and the security objectives."
---
For Editorial Inquiries Contact:
Editor Kym Bergmann at kym.bergmann@venturamedia.net
For Advertising Inquiries Contact:
Director of Sales Graham Joss at 

graham.joss@venturamedia.net
---