The escalating tensions with North Korea and China's growing assertiveness have compelled South Korea to enhance its military capabilities and preparedness, such as investing in new weapons systems, expanding military personnel, and strengthening cybersecurity infrastructure. Against this backdrop, the country's defense budget is forecast to increase to $52.1 billion in 2028, according to GlobalData, a data and analytics company.
GlobalData's latest report, "South Korea's Defense Market Size and Trends, Budget Allocation, Regulations, Key Acquisitions, Competitive Landscape and Forecast, 2023-28," reveals that South Korea's defense budget witnessed a dip of 10.5% from $48.3 billion in 2022 to $44.2 billion in 2023. However, the country is expected to invest a total of $73.5 billion over the period 2024-2028 as acquisition budget to modernize the current inventory.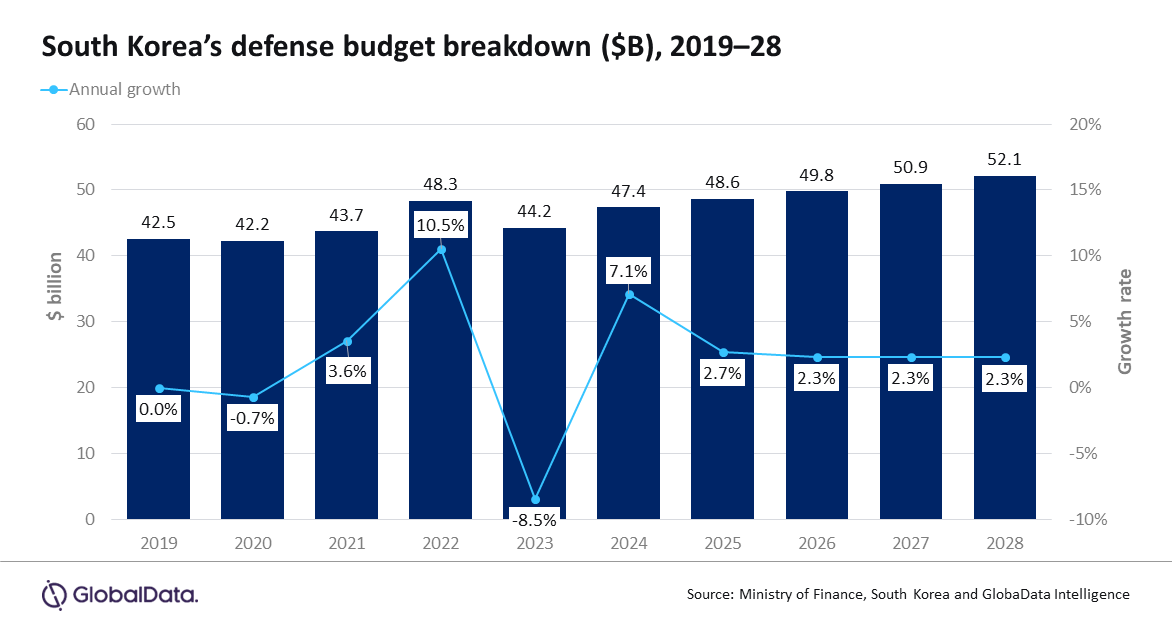 Akash Pratim Debbarma, Aerospace & Defense Analyst at GlobalData, comments: "South Korea's shift in budget allocation towards acquisition budget reflects its efforts to keep pace with the evolving security challenges in the region. Although there is a temporary decrease in the defense budget, the country is anticipated to make substantial investments, particularly in upgrading its Air Force and Navy inventory."
South Korea is making strategic moves to reduce its dependence on imports and strengthen its aerial warfare capabilities with the development of the KF-21 Boramae fighter jet. Although the country has plans to acquire 60 units of Lockheed Martin's F-35A and F-35B aircraft, the completion of the KF-21 prototype by Korea Aerospace Industries is a positive step towards achieving self-sufficiency in fighter jet production.
While the induction of the KF-21 is slated for 2028, it is expected to significantly enhance South Korea's military capabilities with advanced features and increased operational readiness.
Debbarma concludes: "Even though South Korea seeks to reduce its reliance on imports, it is likely to continue to work closely with the US on co-production initiatives and joint research and development efforts to maintain peace and stability on the Korean peninsula. Given their mutual commitment to regional security, this partnership is expected to play a critical role in shaping the region's security landscape in the future."
---
For Editorial Inquiries Contact:
Editor Kym Bergmann at kym.bergmann@venturamedia.net
For Advertising Inquiries Contact:
Director of Sales Graham Joss at 

graham.joss@venturamedia.net
---