To protect its territorial and national interest in the South China Sea territory along with the need to modernise its naval and air forces, Vietnam has increased its military expenditures. Subsequently, its defence acquisition expenditure is projected to grow exponentially and record a strong compound annual growth rate (CAGR) of 8.1 percent to reach US$1.8 billion between 2023-27, according to GlobalData, a data and analytics company.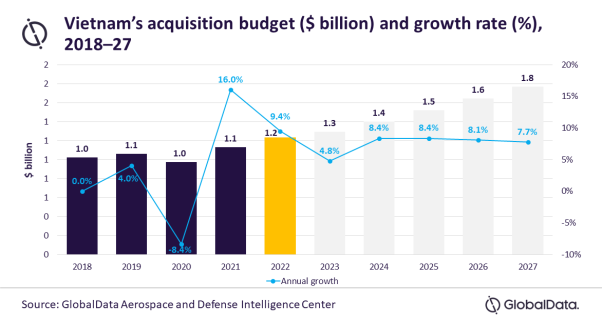 GlobalData's report, 'Vietnam Defense Market – Attractiveness, Competitive Landscape and Forecasts to 2027', reveals Vietnam's focus on increasing investment in its acquisition and other operational budget, the total defence expenditure will continue to grow at a robust CAGR of 8.5 percent to reach US$8.5 billion in 2027.
Akash Pratim Debbarma, Aerospace & Defence Analyst at GlobalData, comments: "Despite the Vietnamese economy being hit hard by the ongoing COVID-19 pandemic, the country showed remarkable resilience. Vietnam's plan on procuring Midget Submarines and indigenously patrol vessels are demonstrations of its commitment to secure its national interests and protect its territorial claim against any external aggression, in the present context, from China."
Vietnam's interest in procuring Russia's 5th generation stealth aircraft (Su-57) is probably going to make Vietnam, the first customer to purchase these aircraft. In addition, Vietnam also plans to purchase Yak-130 training aircraft which is expected to pave way for the purchase of advanced jets from Russia like the Su-30S.
Debbarma concludes: "Keeping in mind, Russia's fifth generation stealth fighter Su-57 being new to the market, procuring these fifth-generation aircraft shows Vietnam's trust towards their ally. Vietnam's decisions on future capabilities are not only driven by the changing strategic environment that the country finds itself in, but also demonstrates a strong relationship with Russia in terms of future procurements."
---
For Editorial Inquiries Contact:
Editor Kym Bergmann at kym.bergmann@venturamedia.net
For Advertising Inquiries Contact:
Director of Sales Graham Joss at 

graham.joss@venturamedia.net
---