Australia has been making significant efforts to promote domestic defence manufacturing in recent years, which has led to a considerable drop in its overall imports. Currently, a majority of Australia's defence platforms, such as military land vehicles, artillery systems, and naval vessels, are locally produced. To gain self-reliance in defence manufacturing, the Australian government is prioritising access to Western technologies through various assistance programs, says GlobalData, a data and analytics company.
GlobalData's latest "Defense Platform Import/Export Dashboard" reveals that the US is one of the major exporters of defence platforms to Australia, with a share of 71.7% of import value during the period 2016–2022, followed by Italy. The US is projected to export $33.8 billion worth of defence platforms between 2023 and 2033, which includes Virginia-class submarines, MQ-4C Triton UAVs, UH-60M & MH-60R helicopters, and C-130J aircraft, among others.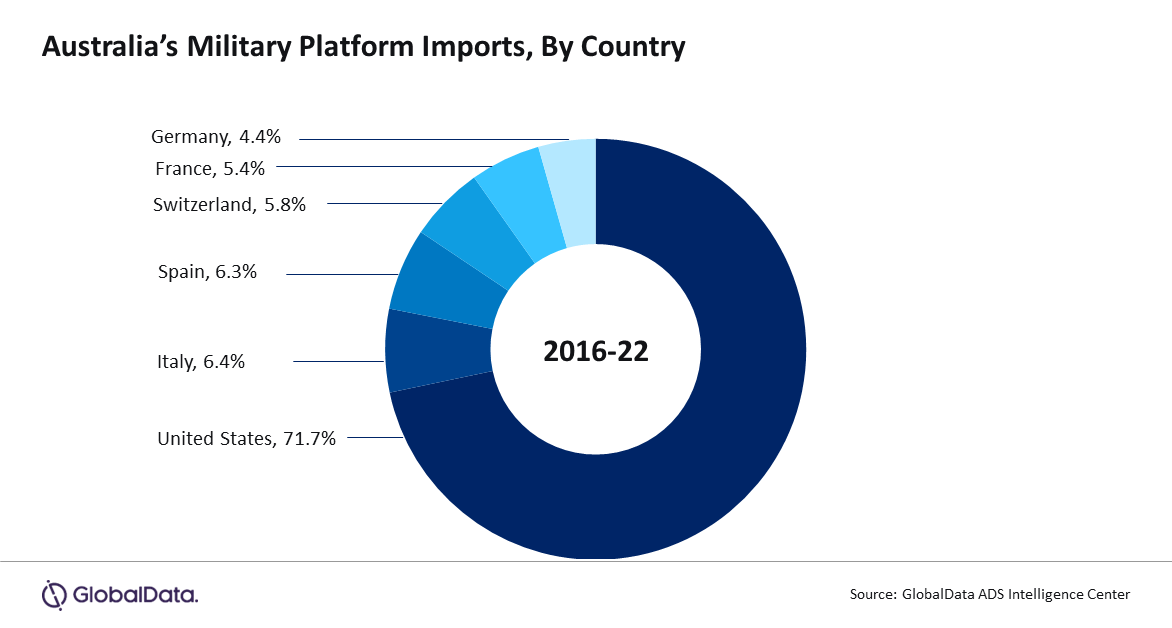 Sai Kiran, Aerospace and Defense analyst at GlobalData, comments: "Australia is one of the crucial partners of the US in countering China's aggression in the Indo-Pacific region, owing to Australia's geographical proximity. As a result, the US has been promoting the presence of US-based defence companies in Australia to enable easy access to weapons production in the country. This has benefited Australia in supporting its broader vision of self-reliance in the defence sector by having easy access to Western technologies while significantly eliminating the risk of logistic issues associated with imports during emergencies."
However, some platforms such as military fixed-wing, military rotorcraft, UAVs, and submarines, are still imported from other countries, including the US, Italy, Spain, Switzerland, France, and Germany.
Kiran concludes: "Defence companies originating from other NATO countries have also set up bases in Australia with increased assistance from the local government. For instance, the recent investment of AUD220 million ($140 million) by the Australian government in two munition plants managed by Thales Australia, a subsidiary of French defence company Thales Group, also aligns broadly with Australia's current defence priorities."
---
For Editorial Inquiries Contact:
Editor Kym Bergmann at kym.bergmann@venturamedia.net
For Advertising Inquiries Contact:
Director of Sales Graham Joss at 

graham.joss@venturamedia.net
---