The Armed Forces of the Philippines (AFP) Modernisation Program has entered its third phase (Horizon 3) this year. Against the backdrop, the Philippines defence market is set to expand at a compound annual growth rate (CAGR) of 6.5%, with the projected cumulative defence spending reaching $26 billion in 2028, forecasts GlobalData, a data and analytics company.
GlobalData's latest report, "The Philippines Defense Market Size and Trends, Budget Allocation, Regulations, Key Acquisitions, Competitive Landscape and Forecast, 2023-28," reveals that the territorial disputes in the South China Sea have raised serious concerns among the Southeast Asian nations, including the Philippines. As a result, the country's acquisition expenditure is expected to maintain an average annual growth rate of more than 9% between 2024 and 2028.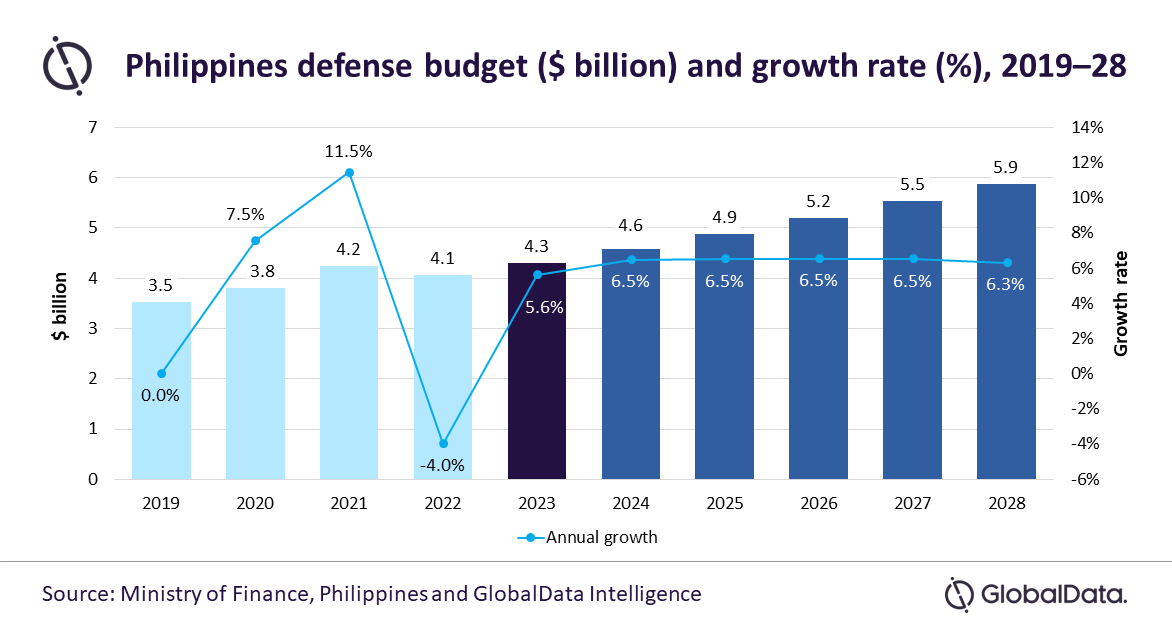 Akash Pratim Debbarma, Aerospace & Defense Analyst at GlobalData, comments: "Despite the adverse impact of the COVID-19 pandemic on the economy, the country's defence budget recorded a CAGR of 5% during 2019-23. The Philippines' defence budget for 2023 reflects its desire to strengthen its aerial and naval capabilities via its Horizon 3 of AFP Modernisation Program."
The Philippines is expected to procure Lockheed Martin F-16 fighter jets and associated weapons from the US under the country's multirole fighter aircraft acquisition effort. The country is also considering Saab's JAS 39C/D Gripen as an alternative option. The need to deter China among the Southeast Asian countries has opened a lucrative market for the western defence companies.
Debbarma concludes: "The Philippines is anticipated to maintain its total defence spending at about 1.1% GDP and increase the acquisition budget at an average share of 20% every year starting 2024. This will likely eat away into the shares of the maintenance and other expenditure provisions within the overall defence budget of the country."
---
For Editorial Inquiries Contact:
Editor Kym Bergmann at kym.bergmann@venturamedia.net
For Advertising Inquiries Contact:
Director of Sales Graham Joss at 

graham.joss@venturamedia.net
---